In our world of uncertain times, we need a "Peaceful Someday"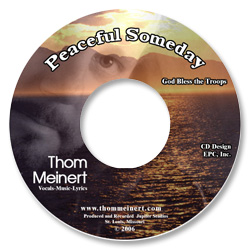 Thom Meinert, BMI recording artist and singer-songwriter from the USA, would like to offer a Free Download of "Peaceful Someday". To all the veterans that have so heroically served our country! The single is currently receiving airplay in many countries, with an expanding fan base, Thom has received touching letters and emails from around the world including a prime minister, troop members, troop support groups, and religious leaders in response to his message of peace. "Peaceful Someday" is being sent successfully to many levels of government around the world, including The White House, United Nations, religious organizations, troop support groups, TV/Radio/Cable Media in assistance of providing "Peaceful Someday" to people worldwide.
As a way of saying thank you to our current Troops and Veterans Thom Meinert and Light House Records LLC. would like to offer this free download for you and your families to enjoy.
To get your free download of "Peaceful Someday" go to ......