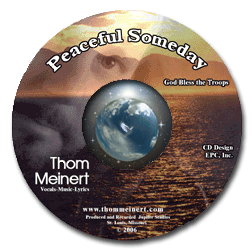 LIGHTHOUSE RECORDS, LLC, AND THOM MEINERT, BMI RECORDING ARTIST USA, IS PROUD TO OFFER A FREE DOWNLOAD OF THOM'S HIT SINGLE, PEACEFUL SOMEDAY.
PEACEFUL SOMEDAY IS A BEAUTIFUL TRIBUTE TO THE FIGHTING FORCES FOR PEACE AROUND THE WORLD. PEACEFUL SOMEDAY HAD REACHED #1 FOR MANY WEEKS FROM ENGLAND BROADCAST TO SOME 30 COUNTRIES. PEACEFUL SOMEDAY IS ABOUT THE SOLDIER OF PAST AND PRESENT, REFLECTING BACK ON PEACEFUL TIMES, AND DELIVERS A POWERFUL, YET BEAUTIFUL TRIBUTE FOR THANKS, AND MORALE TO ALL WHO ARE FIGHTING FOR PEACEFUL TIMES IN A TURBULENT WORLD.
PLEASE CLICK ON THE PROVIDED LINK TO OBTAIN YOUR COPY TODAY. ALSO, PLEASE VISIT US AT THOMMEINERT.COM FOR THE LATEST NEWS, NEW MUSIC, AND MUCH MORE. THIS IS A LIMITED TIME OFFER. GOD BLESS YOU ALL, AND THANK YOU FOR ALL THAT YOU DO, AND HAVE DONE IN THE QUEST FOR PEACE.
To get your download your free copy of Peaceful Someday, "Right Click"
the link and select "Save Target As" or "Save Link As" to download your free copy.
Lighthouse Records, LLC.
Thom Meinert
BMI Recording Artist USA
Singer-Songwriter-Musician
thommeinert.com
lighhouserecordsllc.com