Thom would like to thank Mr. Bill Mitchell for this beautiful pencil sketch of Thom to celebrate his joining Lighthouse Records.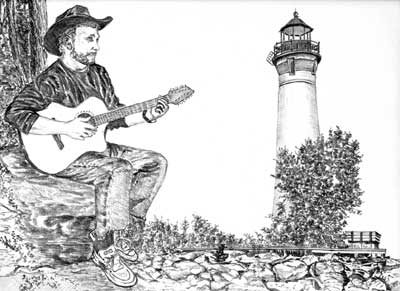 Bill Mitchell Lighthouse Art sells copies of Bill's art. His favorite medium is black and white pencil sketches, and he specializes in lighthouse pictures. He packages his pencil sketches into lighthouse note cards, lighthouse matted prints and lighthouse calendars.
In 2002 Bill semi-retired to a home in the woods near Ludington, Michigan, where he started his business. Bill has developed a miniature mural style, where he sketches from digital photos onto 9x12 sketch paper. This technique provides excellent overall proportion and shading of the scene. From a distance each sketch almost looks like a photograph. Please visit Bill at www.billmitchelllighthouseart.com.